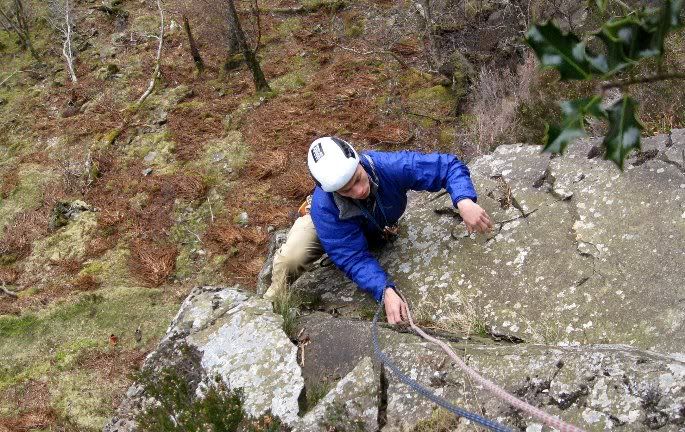 Banzai Pipeline (E1). Photo courtesy of
UK Climbing
.
How does that famous saying go? A bad day on the crag, is better than a good day in the office. Ok, I don't think it specifically refers to climbing, maybe surfing, but you get the gist and it was definitely the case today.
To begin with, I'm still without camera so the above picture has been robbed from UK Climbing and isn't even of the climb we got on today. However, it is at the same crag, Great End Crag. A small blessing. The route we did attempt was Greatend Corner (HVS) and attempt is definitely the word to use here.
The guidebook
states that the first 15m pitch is a scramble. However, halfway up we got a bit scared, roped up and finished it off on the lead.
The second pitch went much better until we came to the crux. I tried and failed to work out a sequence and backed off before it all went horrendously wrong. We swapped over the lead and my partner attempted the crux, pushing through it by about a meter before they backed off as well. We pulled the ropes through, leaving all the gear behind and abseiled back to the ground.
Then in a bid to save face, rescue the gear and save our bank balances we scrambled around the side of the crag to the top and abseiled 25m down the line besides Greatend Corner to a tree, which had plenty of tat tied around it. We pulled the ropes once more, rigged them through the tat and abseiled down to our gear, retrieving it all, before lowering off back down to the ledge we had retreated from earlier on. After pulling the ropes through once more, we made one last abseil to the ground, packed our bags and walked off back to the car.
Even though you may class the day as a complete disaster I do not. I walked away unhurt with all my gear having tried to push my grade on a three pitch route in the Borrowdale Valley and also experienced my first multi-pitch retrievable abseil. I'm hoping to be back out tomorrow either cragging or bouldering; I'm just waiting on some text messages to see if I've got a partner for the day.
Good lines, stay safe and see you on the wet stuff...
Iain