Just finished a weekend of White Water Safety and Rescue training with Tom Parker and felt like dropping into the blog to post up my thoughts because that's what blogging is all about I suppose!!!
It all kicked off 'early'

Saturday

morning with a rendezvous of 9am at Halton Trainstation's car park. It wasn't actually that early as I am up most mornings by 6:15 to deliver the nation (more the local area) with their daily news so anyway we made it in time and soon after our coach pulled in, driving up from Bangor that morning. The course kicked off. A quick talk and a few points jotted down on the white board followed before we got changed and headed, minus boats, to the section of river best known as Halton Rapids.


Obviously a WWSR course would not be complete with out a fair amount of time spent in the drink so as soon as we were on the waters edge we all lowered ourselves into the current and set off defensive swimming and then aggressive swimming and then we did it all once more for good measure before heading off to practice with our throw lines. Once we had practiced with our throw lines on dry land it was back to the water for some more swimming and instead of getting ourselves out of the water we were pulled out on the end of the yellow twine.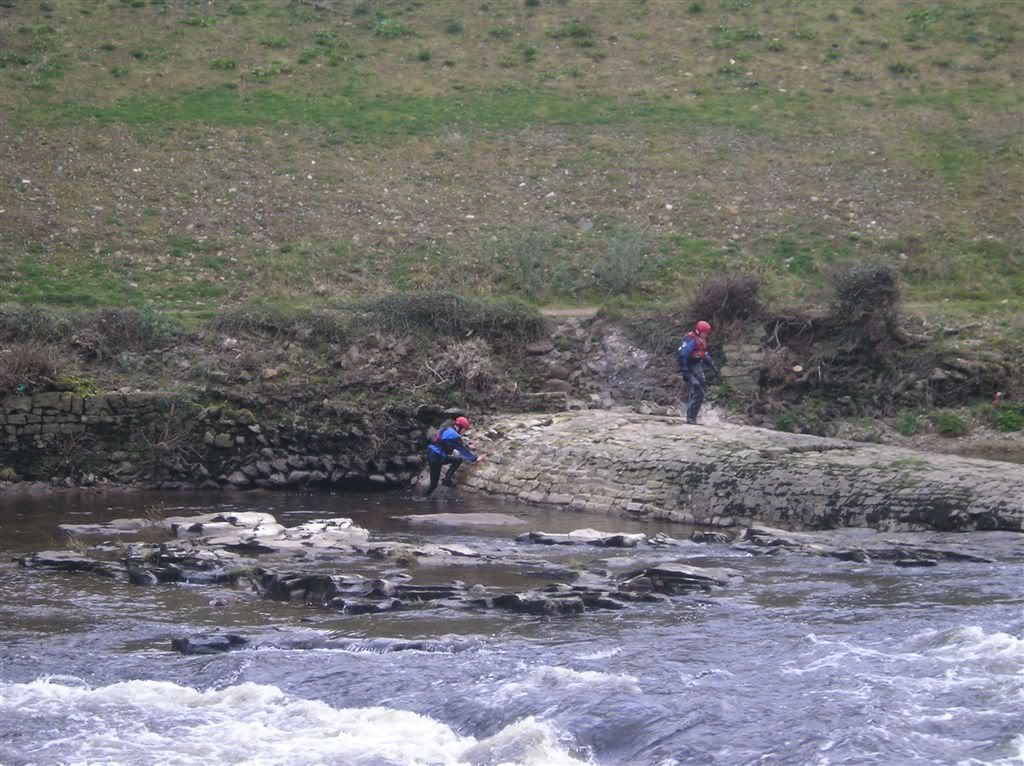 We then broke for dinner (Sausage Roll - Corned Beef Sandwich; no condiments - Mini Cheddars and then maybe a Blue Riband) before heading back down to the water for some more work in the water. This time, having covered most forms of retrieving casualties from the river we jumped in on the sharp end to practice live bait rescuing. It was quite fun actually, but it must be remembered that when in a controlled environment under no stress or anxiety it may be fun, but when it comes down to needing these skills something dreadful must have happened for such an event to of arisen. Not so fun then. The day was wound up with a session on crossing shallow stretches of river before heading back to the cars to get changed and warm up a bit before looking at mechanical advantage for removing pinned boats. A good day in all.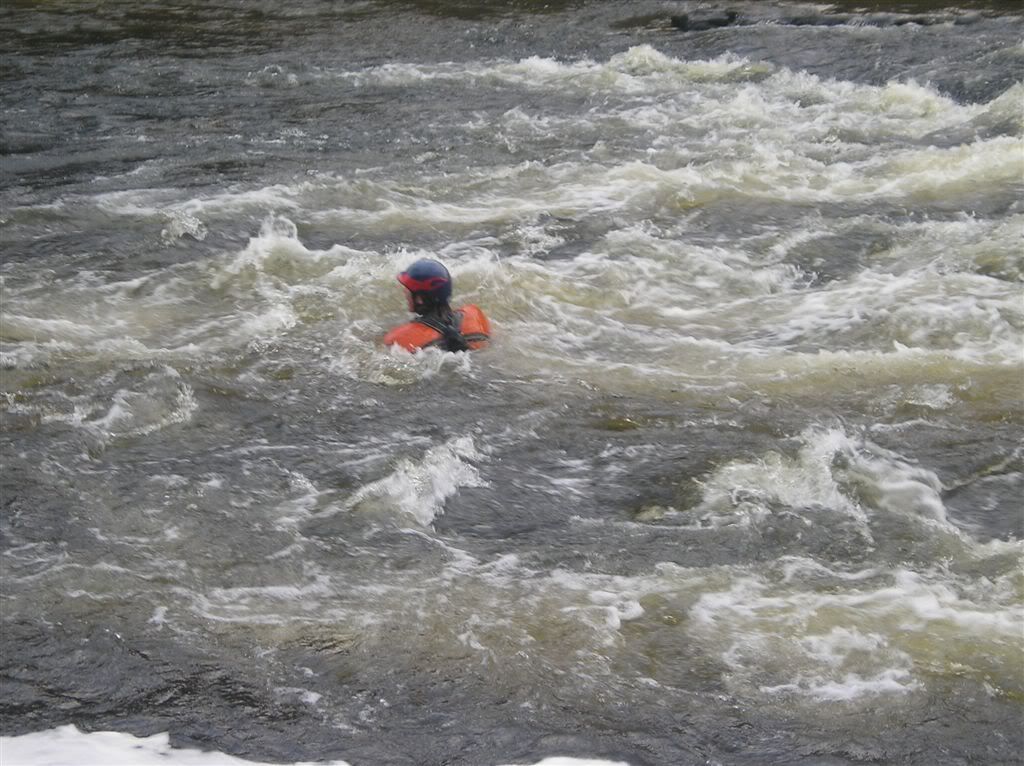 Sunday

rolled around with clear blue skies and a rather bright sun, however we still had a 9am start in the car park at Halton where Tom had spent the night in the back of his van. The day kicked off with some entrapment work on the disused train track and was made that bit more entertaining with the frequent cyclists that needed to get past our handlebar high ropes. Much de-rigging and re-rigged quickly ensured to let them on their way. Once this session was complete we moved, for the first time, onto the water and into our boats.

I was using a Pyranha Burn for the course, kindly provided by Tom, as I was going on the basis that I needed a boat I could get in, with shoes on. This meant that when I was running up and down the bank I wouldn't be in risk of damaging the old Gore-Tex feet of my dry suit. On the river, in our boats, we focused on

C

ommunication,

L

ine of sight,

A

voidance and

P

osition of most usefulness (CLAP) before heading for dinner (Sausage Roll - Red Leicester Sandwich; no condiments again - Mini Cheddars, Flapjack and then a Take a Break).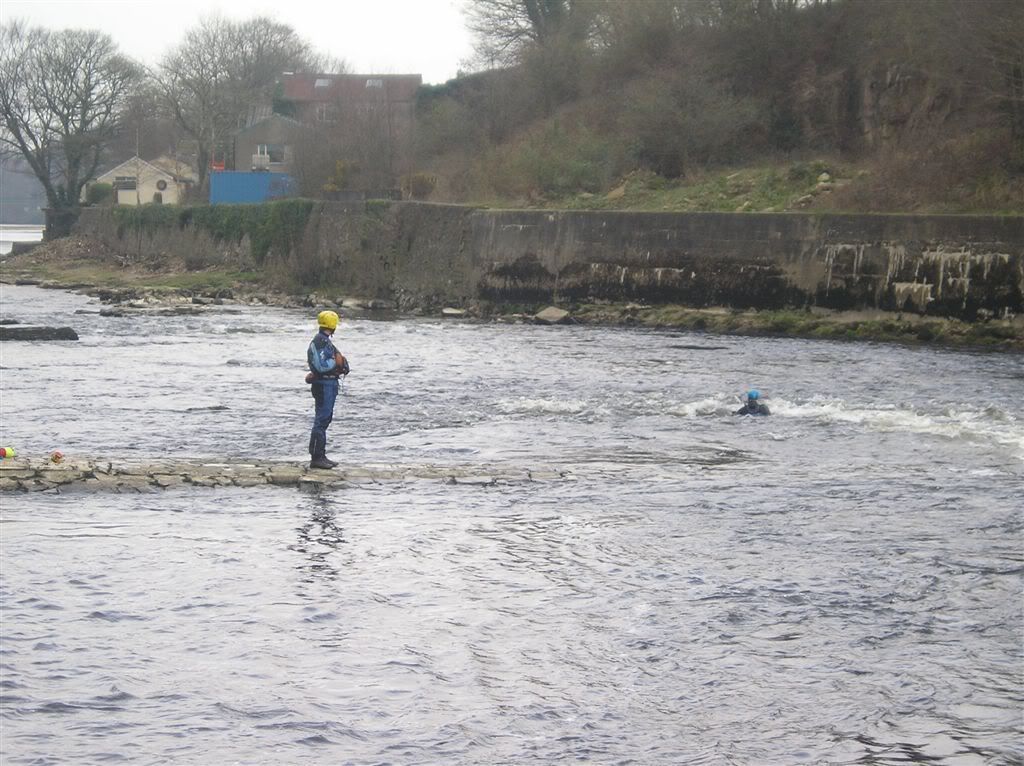 During the dinner session we ran through some scenario's on the white board whilst sat in the afternoon sun before heading, for the final time, back down to the river. Once at the river we paddled back up to the rapids and from there set up a tensioned diagonal line to cross the river. It was quite fun zooming down and across the line, whilst just pointing with one arm the way we wanted to go. That was now the WWSR course syllabus complete so we rounded the day off with two scenario's. The first scenario's consisted of a failed throw line attempt for one swimmer and then a quick coil and throw line rescue of another swimmer. The second one was more complex and this saw Tom take a swim and then entrap himself leaving us to rescue him and his boat.



That was it really. Tom delivered a might fine course in a fun, friendly atmosphere which allowed us all to learn new skills that one day may prove vital.


More pictures can be found here.

Good lines, stay safe and see you on the wet stuff...
Iain