Today was to be the day, the day to end all days of paddling, the day that would go down in history as a

monumental

day for kayaking, the day I would actually get to paddle the

Leven

. The

Leven

, a grade 2/3

bumble

in the southern Lakes, flowing out of the bottom of

Windermere

, is not really the most astounding river that can go down as a

monumental

day for kayaking, but for me it was a big thing. I had made attempts before to paddle the river, but various things had cropped up, like; being ill, the car being broken, the person driving the car being ill, too little water, too much water, too much

celery

in the salad crisper meaning that the balance was just totally out of line for the rest of the week kind of things which make it hard to get on the river.
So today was the day. I got dropped off at

Fulwood

Leisure Centre and

caught

a lift up to the Lakes where I met up with the rest of the group. The first thing that greeted me was a lovely sign reading "No unauthorised

canoeing

," maybe I still wouldn't get to paddle the river. Luckily, it was a day when

canoeing

was authorised, so not even a minor technicality stopped me from getting on the moving water. Though I guess , if it wasn't a day when

canoeing

was authorised each member of the group could authorise someone else to paddle the river,

until

we were all authorised, and then maybe we could have got away with it! Anyhow lets not whittle away our time talking about the ins and outs of access agreements, frankly they suck, and as soon as the laws in Scotland for rivers come into action over here the better. We eventually got on the river when all was said and done. However, the river wasn't done until it was done so we headed off downstream so I could actually say I had paddled the

Leven

.
Once on the water the

Brickchute

Weir soon comes into sight and basically this has a nice little stopper on one side great for some

cheeky

side surfing, and

cheeky

bow/stern splats and anything else that is

cheeky

that can be done in a really shallow hole. Then in the middle of the river there is a small wave train, and it may have been possible that on the second wave of the train, the first being too hard to get on, loops could have been thrown. Then after this chute there is another part to the weir that we didn't seem to go in, I don't know why, but we just didn't.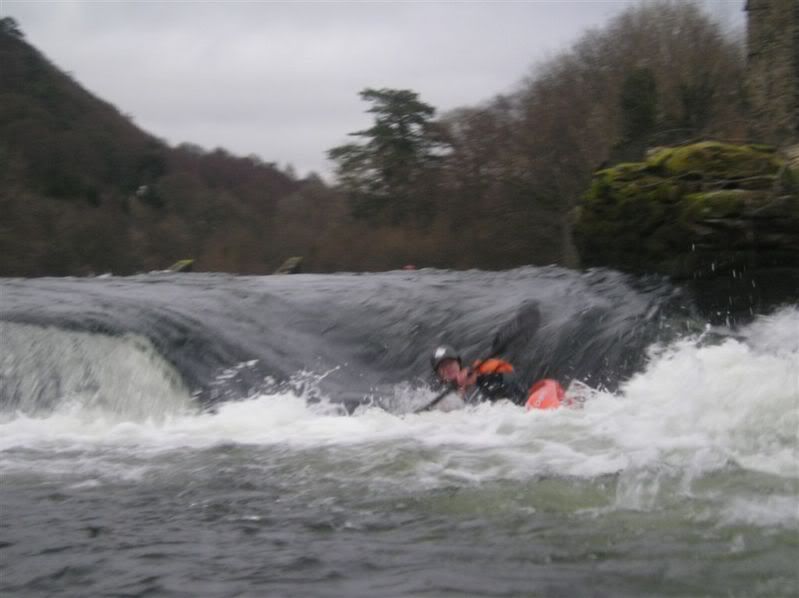 After the

Brickchute

Weir there is this

cheeky

little drop, which has been known to be a bit unkind to paddlers that have had upside down experiences if the line, which is suppose to be hit with style is not styled in anyway what so ever. However, today the drop had a rather nice

boof

spot (middle left of the above picture) for some

cheeky

boofs

, which I managed to hit rather well, though I was a bit too far right, which meant I missed landing in the eddy. We soon moved on from here as there wasn't much in the way of playing potential, but downstream there was the odd little drop to get a

cheeky

boof

, followed up by a

cheeky

surf in some shallow play features, which weren't letting you go to big in case you just got to cool.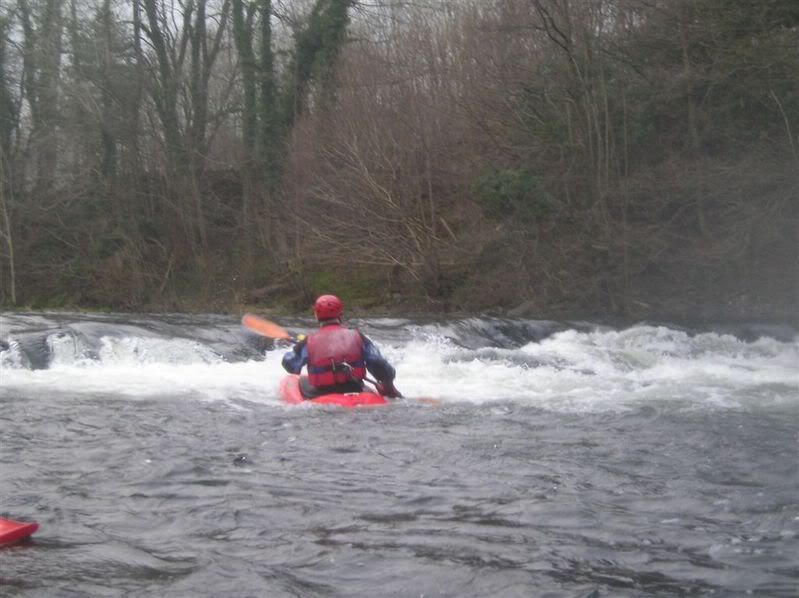 There is also a section of river called the Graveyard, which is littered with boulders, which was rather splendid for getting some rather tight break-outs, which could have been classed as

cheeky

by some folk, but they were there for the taking and I must say that I took them rather well.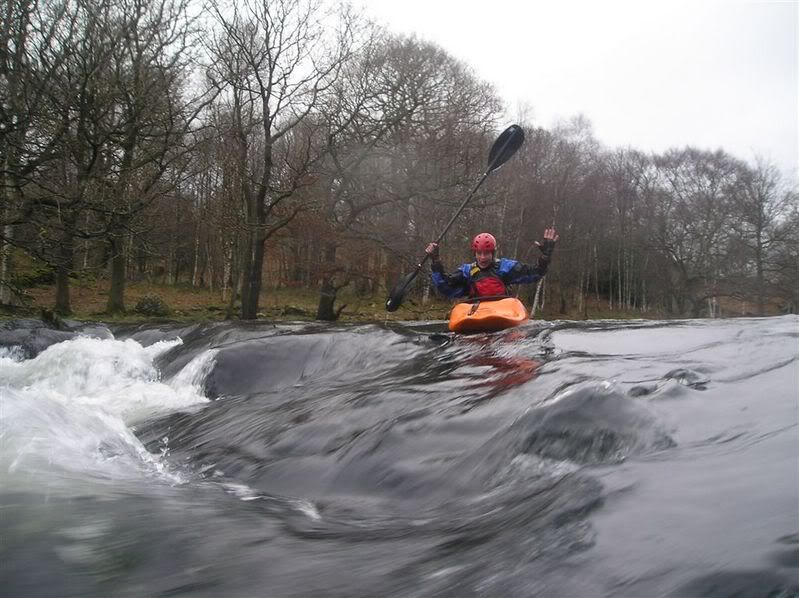 Once we had reached the end, as stated by the access agreement, but is by no means the end of the river as there is some rather splendid looking grade 4 supposedly, we headed back to the top to repeat the section again.

Cheeky

boofs

were had, as were

cheeky

side surfs and there may have been the odd tight break out made.
Unfortunately

I don't have any pictures of the second run as my camera decided to pack in, but if the ones on display aren't enough to keep you happy there are some more
here
.
On re-reading this post I seem to have got a bit hooked up on

cheeky

surfs and

boofs

, I don't know why that is, but it's just what my fingers decided to type. Maybe people should start

referring

to small

boofs

and small play features as

cheeky

just because you can. Who knows?
Good lines, stay safe and see you on the wet stuff...
Iain