I've just got back from a weekend away up in the north-east at the Tyne Tour. This was the first 'Tour' for me and this was the case for the majority of people who had come from my canoe club.
I finished college early on

Friday

so m
y Dad and I were on the road by 4pm, this meant we had a head start on many people, who we were meeting at Hexham, where we, and everyone else on the 'Tour' were camping. I thought the early start would allow us to drive up at a leisurely speed and arrive just as the sun was going down and pitch the tent. However, we arrived at the campsite in the dark to a very full Tyne Green where we were expected to find some of our party who had already arrived. It took us
half-an-hour before we eventually located them - thank god for the mobile phone and texts- and a further fifteen minutes to pitch the ten
t, with the aid of head torches, and unload the car.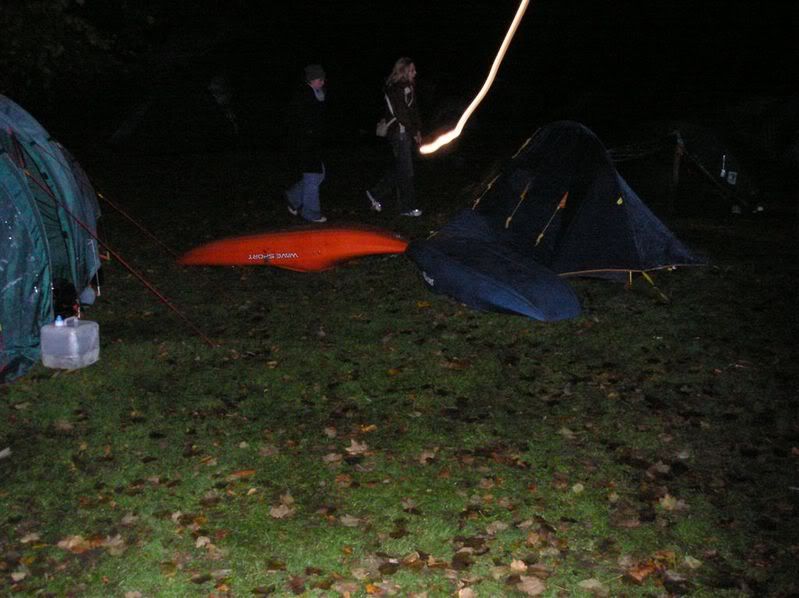 Over the course of the night the rest of our group arrived and pitched their tents, and eventually we headed into Hexham to try and find warmth with the help of a pub. However, we weren't in luck mainly because it was 11pm and everywhere was full with other paddlers. So we headed back to Tyne Green to stand in the cold. By now many other paddlers had arrived and pitched tents and there was a definite atmosphere hanging over Tyne Green. There were many little groups huddled around tents
fighting off the cold and generally having a good time. At one point in the night we were surrounding by Sheffield Hallam Uni. Canoe Club who were looking for anyone to have a chat with and
we spent a while talking with them before they moved on. I think we eventually retired to
our
sleeping bags at a-quarter-past-one though we didn't get any sleep as the Uni. Canoe Clubs that were frequenting the event made a rather healthy noise way into the early hours.
Saturday

eventually came and we could eventually see the sheer scale of the 'Tour'. Every bit of grass was populated by either tents, boats, paddles or kit and many people were flitting between these items trying to organise themselves into some sort of state to be ready for paddling the river later in the day. Others just let it all p
ass them by and had a leisurely morning getting themselves ready. I think I fell more into this class, but I was still ready to be off when the rest of my group were so neither approach to getting ready made a difference in respect to speed. Anyway we eventually
headed out as a small convoy of vehicles, which actually m
ade up one long convoy from Tyne Green, at Hexham, up to one of the get-ins, at Barrasford. When we reached Barrasford, where the parking was on the perimeters of the local football pitch, we were greeted by car upon car of paddlers getting ready to head off downstream back to Tyne Green. The group I was with spent a fair amount of time packing boats up before we moved off down to the water.
Barrasford - the car park at the get on
Once at the water I got my first look at the river and it didn't really make any impression on me. The thing that did however was the sheer number of people getting on the water. So not one for
being left out I headed off after everyone else to launch into the river I just wasn't aware of the route I was taking to get down to the waters edge. It was a bit steep to say the least.



I was soon on the water and I just sat there taking it all in. I think this must have been the first time I had been on a river were it resembled something like a morning commute. There was little lumps of plastic everywhere you looked and some of them were in fancy dress - over the course of the weekend I saw two camouflaged paddlers in a camouflaged TopoDuo to suit (if I saw them they mustn't have been that well camouflaged!) and a Knight in Shining Armour. We soon headed off downstream and the group I was with took the right hand side of the island. I thought the left hand side looked more interesting, but for some reason we didn't go that way.



After this rapid the river flattened off and we carried on downstream. I can't really say much about the river now as it got all pretty similar. There was a lot of paddlers on a river, which was full of flat sections of river interspersed with small shingle rapids with the odd play wave chucked in. Even though this may sound a bit boring it wasn't as we were on the Tyne Tour, which seemed to make a pretty average river a lot more interesting.



We eventually reached Warden's Gorge. This gorge had been spoken about to great length whilst out at pubs with the group of people I was with and it was with some trepidation that I approached it with. I had been told it would be nothing for me to worry about, but still, when you here stories of swimmers being all the way down the gorge you start to think up many different scenarios. Anyhow we took the start of the gorge on the right, but there looked to be an interesting line just to the left of the island, but again I'm not sure why we didn't take it. We were now in to the deep, dark depth of the gorge and when looking downstream there was just a rock promontory of rescuers with throwlines to hand. I took the rest of the gorge slowly breaking out frequently to take photo's. There were some playwaves part way down the gorge but I just didn't make the effort to get to them instead I headed to the bottom and messed around there for a while and watched some carnage and spot-on throw lining from the rescue team's on the bank.


Once we had finished playing on the wave at the bottom of the gorge we headed on downstream and once again it was
a lot of paddlers on a river, which was full of flat sections of river interspersed with small shingle rapids with the odd play wave chucked in, but it was all good fun.


That was that for the paddling on Saturday. The rest of the day, well what was left of it, was preparing for the ceilidh later in the evening and this was something that some of my group had come specially for. It was a noise affair, but it was in a drafty sports hall, which soon warmed up once you chucked over a hundred paddlers in there and a cracking ceilidh band to whip them up into an excitable frenzy it got quite warm. In fact it was such an excitable frenzy that in the interval some of the Uni. Canoe Club's set about making human pyramids on the dance floor. Some were more successful that others, but most of them resulted in bodies piled up on the floor after what looked like a painful fall.


Sunday

eventually came and it ran pretty much the same as the day before. Though there were a couple of slight variations.

I took the left line at the rapid by the get in at Barrasford and kind of messed it up resulting in a bit of a rock bashing and a nice set of scratches on my helmet.

There were less paddlers on the water.

I took the left line on Warden's Gorge, which that sign said "G4ish water fall" and hit it perfectly.
What was left now was the drive back to Preston where there was a good hour's worth of kit sorting to be done. Great!!!
More pictures can be found
here
.
Good lines, stay safe and see you on the wet stuff...
Iain