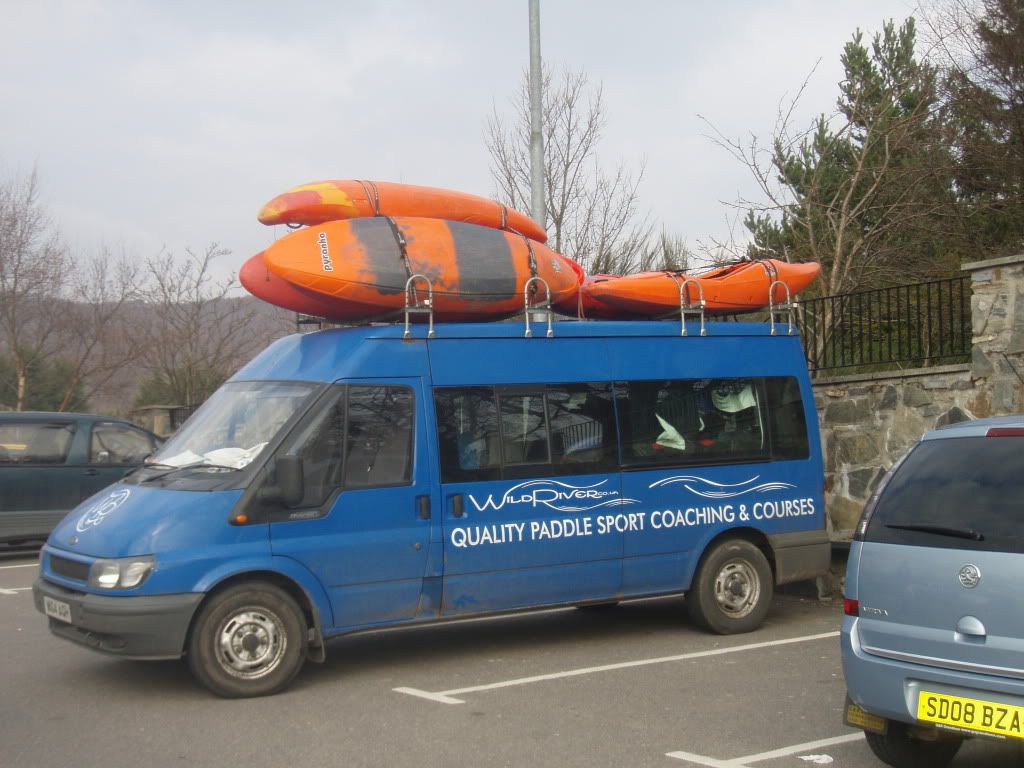 Since Friday morning I've been out of touch with civilisation because I've been busy on a three day course with
Wild River
. On the first day we hit the Leven for a day of rescue training to fulfill the rescue element of the new
5 Star Kayak Leader
award, which the BCU rolled out a year ago. Then we all piled into the Wild River bus and drove north for a good distance before stopping just outside Aberfeldy at the
Adventurer's Escape
bunkhouse.

The next day we were up bright and early and on the road again in the hope of putting on the Findhorn sometime that morning to fulfill the personal skills and leadership training elements of the award.
I'd been on the Findhorn once before and that was back in April 2007 and surprisingly enough I remembered the river amazingly well. This may have been aided by the fact that the level was pretty similar. However, this descent was much more enjoyable than the last. The paddling was slick and the group moved down the river with amazing efficiency only getting out of the boat once to scout a section of Triple Step. Just how I like to paddle. The day was rounded off with one more 'speed' descent of the river lasting about 50 minutes before getting back on the road again and heading further north.
Saturday night saw us parked up at the side of Loch Meig in a convenient layby and the standard of accommodation dropped considerably when compared to the previous night; we resorted to tents, bivy bags and hammocks. This did allow us to be up at first light the next morning to hit the river.
We managed one descent of this classic. It must have been one of the best experiences I've had on a river, but it still had some way to go to beat the exploration mission on the Abhainn an Fhasaigh a month earlier. The paddling was just what I liked: low volume, tight and technical pool drop where boofs were a plenty. There were some minor hiccups on the river, like me calling the group down believing that everything was good to find that we were all dropping into a pool with no exit. It all got quickly sorted, but this wasn't until three of us had all dropped into the small pool to find the minor error in my leadership. There was one other instance where I had to take a swim so that I could access the bank and quickly scout another drop so that the rest of the group could run it blind. As I said a classic.
Being up so early had it's advantages. It allowed us to get an early start on the river, but also offered up opportunities for further paddling if the personal skills and leadership training had not been fully covered. However, all was good and we were able to make early in rodes into the 290m drive back to Cumbriashire.
More pictures can be found
here
.
Good lines, stay safe and see you on the wet stuff...
Iain